Soggy Invader? Crinkly Crewman? Either way you'll have a blast during ABU's Boston Invasion!
ABU is coming to Boston for a crinkly crawl around the city! Get your soggy invader pants ready as we invade the aquarium, mini golf, and tons of fun events around the city!
ABU's Boston Invasion is not your average event! We will be exploring the city and meeting at invasion points throughout the weekend, so bring your moon boots and prepare to explore more than a hotel lobby! Join the telegram group using the QR Code seen here for announcements and meetup locations that will be shared as google maps pins so you know where to invade next and don't miss your crews rallying point!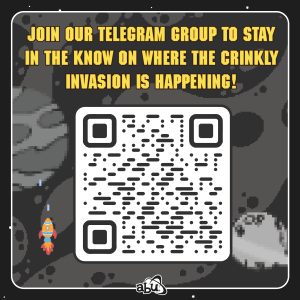 Make it to the invasion points and fight off the aliens! Each participant in ABU's Boston invasion will receive an event punchcard. Find an ABU Staff member at each invasion event you attend to get your aliens punched out! On the last day show off how many aliens you defeated and you will receive a raffle ticket for each event attended so you can enter to win some sweet swag for fighting those soggy invaders!
See the schedule below for details on where the crinkly crew will be protecting Boston from soggy invaders!
Thursday, June 15:
Dinner Meet & Greet……………6:00PM – 7:30PM
Drinks: OffSuit Speakeasy……….8:00PM – 10:00PM
Lunch……………………………11:00AM – 12:30PM
Aquarium Meetup……………….1:00PM – 3:00PM
Charles River Esplanade………..4:00PM – 5:00PM
PuttShack Mini Golf & Dinner…..6:00PM – 8:00PM
ABU invasion Celebration……….9:00PM – 2:00AM
Saturday, June 17:
Picnic In Pier Park…………….11:30AM – 1:00PM
Salem Field Trip………………….2:00PM – 5:00PM
Dinner…………………………….7:00PM – 9:00PM
ABU Invades Alley Pups………….10:00PM – 2:00AM
Sunday, June 18:
Brunch At Cathedral…………….11:00AM – 12:00PM
Museum Of Science………………1:00PM – 3:00PM
Freedom Trail…………………….4:00PM – 6:00PM