ABU PowerUps: US vs. EU Editions, What's The Difference?
Hello kiddos, puppies, and caretakers alike!
Today we're going to be giving you the exciting, and definitively cool, 4-1-1 about our very own ABU PowerUps Adult Diaper Boosters!
For those who may not know, PowerUpsTM come in two varieties, respectively US and EU versions. Both awesome variations help you, or your little one, conquer hoards of S.O.G.G. monster and delay the changing trolls all while everyone's waddle becomes a bit more obvious than before. (like it's a secret anyway...)
So what's different between the two versions??!
ABU PowerUps - USA Edition
Absorbs Over 900ML!

Dimensions: Length: 16.5", Width: 6"
Height: 0.125"
Swell Factor: 1.5' Boost!

Quick Absorb Core

Lock In Place Adhesive

Optional Baby Fresh Scent
You get 30 of our original powerful diaper boosters in every pack of PowerUpsTM diaper boosters. With a handy-dandy adhesive strip and 900mL absorbency, these boosters stay snuggly secure and swell to a hefty, happy thickness.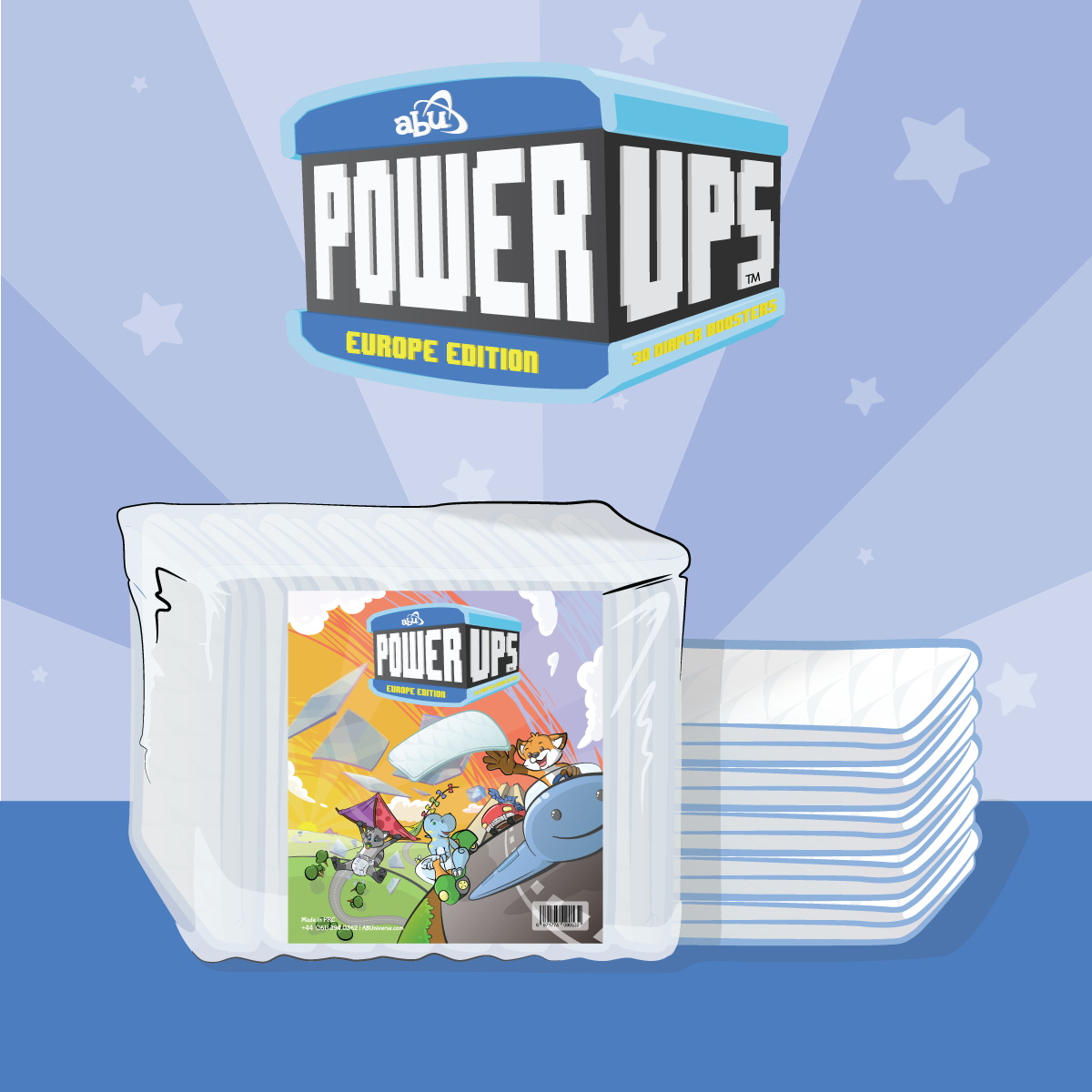 ABU PowerUps -  Europe Edition
Absorbs Over 1,000ML!

Dimensions: Length: 42cm, Width: 15cm
Height: 2cm
Swell Factor: 2cm Boost!

Quick Absorb Core

Optional Baby Fresh Scent
Our European PowerUpsTM include 20 absorbent diaper booster pads per pack and begin their fluffy journey a little bigger than their US cousins. Their extra girth and added slurpy powers provide slightly better absorbency and liquid distribution than their US counterparts from across the pond, but don't swell as much in the end.
Buuuut which PowerUpsTM version is better?
As with many choices, it all comes down to personal preference. If additional protection without added bulk is your aim, you may enjoy US PowerUpsTM to enhance your crinkle experience. However, if you're packing for poof and want even more absorbency than ever before, EU PowerUpsTM will help satisfy your fluffy, padded goals. In the end whether you use one booster, multiples, or even no booster at all, ABU is here to help you get down with the thickness no matter your preference!